Fire suppression system SV-V Vulcan
The Vulcan system is our top-of-the-line brand developed to meet the most challenging demands. 
 
The basic components of the Vulcan system are a linear fire detection wire, piping, nozzles, and a non-pressurized agent tank. Instead of obtaining the pressure by releasing the suppression agent with the pressure from a standalone Nitrogen cartridge, the pressure is obtained from an integrated actuator system in the agent tank.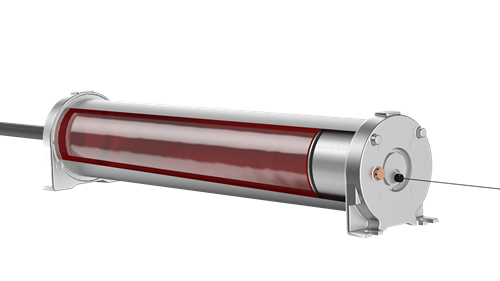 The SV-V agent tank offers flexible installation and can be positioned horizontally to upright. With fewer components included as part of the system design, the installation time will be shorter, and the supply chain material handling process will be kept at a minimum.

As the agent tank is non-pressurized, it is maintenance-free for 15 years.

A low total cost of ownership (TCO) is an important key factor for every bus operator. With its superior low maintenance and reliability, the Vulcan fire suppression system contributes to increased profitability through less downtime for the operator.