EV GUARD
Portable CO-Sensor
The EV-GUARD is a portable CO-sensor detection that consists of four Sensors Modules and one Sensor Case Pack. The solution is based on patented technology by Dafo Vehicle.
The Sensor Modules are designed to be fitted to an EV and provide early detection and warning when critical levels of CO-gases are detected, preventing/delaying thermal runaway. The Sensor Modules will alarm through optical signals, and they will also communicate with the Sensor Case Pack, which will alert with visual and acoustic warnings. Information regarding the EV-GUARD's status (alarm, fault, etc.) will be sent via SMS and E-mail to a specified person.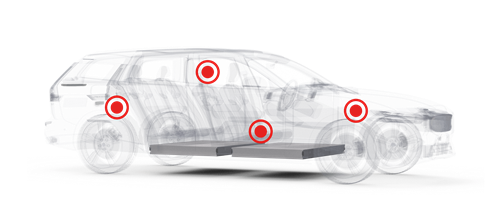 User groups
With the increasing use of EVs, the risk of thermal runaway has escalated. At Dafo Vehicle Fire Protection AB, we are working to make electrification safe by focusing on preventing/delaying thermal runaway. We have identified groups that need quick and early detection of potential thermal runaway ignition to make it possible for them to take appropriate actions quickly. These are First and Second Responders, Tow Truckers, Auto Mechanics, and people working with Automotive Quarantine.